If you've been drawn to the hot rose toy lately and are planning to buy one to try, then congratulations, you've come to the right place. This guide is not to lure you into buying rose toys from us, but to free you from the overwhelming hype. You should know clearly what a rose toy is? is it really as good as you think? do you really need it? Can it really bring you a good sex experience? Questions such as these are all you need to know clearly before buying.
We have always advocated rational consumption, buying things that must be worth the money and what you need. As you can see in our store, we don't put fake prices on like most sex toy stores and then give you a "big" discount to destroy your mental defenses and make you feel like you're getting a great deal. Instead, we bring you several optimized rose toys at a lower price than anywhere else, and most importantly, you can get a unforgetable private sex experience from it. This is also the purpose of our customer service.
If you're still looking forward to rose toy, keep reading our guide and make your own judgement, hope you have a great trip!
Why did rose sex toy suddenly become popular?
What is a rose toy? The rose toy is a type of sex toy shaped like a rose. Its working principle is that the built-in high-speed rotating motor forms a rotating airflow when it works, simulating the action of licking the tongue. Rose vib stimulates the clitoris or other sensitive areas during female masturbation or couples flirting. So why did rose toys suddenly become so popular?
Today, the Internet is like a nuclear reactor, because even an inconspicuous topic can be hyped up to the sky. Let's talk about the rose sex toy that has spread wildly on TikTok recently. As a professional who has been in the sex toy industry for more than 20 years, I'm certain this is extreme hype because the rose sex toy is just an ordinary sex toy. Just as it has been portrayed on social media, the rose-sucking sex toy does not have a sucking function. It is just a slap-stimulating sex toy. Note that descriptive mistakes are not a problem; if you don't like the product, you can return it and get a refund. Basically, it is hype because this rose sex toy has a single function, which is the slapping stimulation function (people in business describe it as sucking according to search habits). The noise is not tiny, and far from its magical function as described in the video.
This hype originated from Amazon. Initially, it was Amazon's unsalable product and sellers were ready to clear the inventory, but the merchants did not expect Tiktok to make this happen. If you have been on the adult sexy side of TikTok at any time in the past few months, you will certainly know everything about the rose sex toy. It is a "sucking" sex toy, and more than 100,000 labels have been generated around the rose sex toy alone. A user with more than 650,000 followers says in the video; "I don't need a man to do anything anymore. This is the best damn invention ever." If the one sold on Amazon is "genuine", then the one she showcased in the video is fake. Another video said that she received Rose within 30 seconds. The video received more than 629,000 likes, more than 10,000 comments, and 40,000 original video reposts. The speed of transmission is impressive.
Another reason for the rapid spread of rose sex toys is that many Amazon affiliate websites publish them on their product recommendation pages. These affiliate websites are high in the Google rankings and finally formed fission transmission.
Why did the nameless rose sex toy become a sex toy internet celebrity?
Nowadays, there is a popular term called "net celebrity," and online merchants have successfully used influencer economy. Rose sex toys result from the Internet celebrity economy, and the Internet celebrity economy is not guilty. Unfortunately, an ordinary product has been over-hyped, making users pay for it at a high price.
The selling price of Amazon rose toy is as high as 50 dollars, the product reviews are more than 10,000, and many highly untrue reviews seriously mislead users. Fortunately, Amazon officials have begun to rectify all these dishonest behaviors. The Amazon affiliate marketing website is best at capturing Amazon's hot-selling products. As long as the sales rank is high and the product reviews are positive enough, they will actively cite and recommend them on their websites.
Affiliate websites are very good at packaging themselves and they even treat themselves as users who fabricate too many fake product reviews and recommend users to buy them. Do you think they are willing to spend money to purchase and experience and then give honest feedback? Maybe, but it must be a tiny part. What they value most is whether the products they are sharing are the best-selling products on Amazon, nothing more. If that isn't the case, then where does their commission come from?
As a product provider, we certainly hope that our products have broad channels of promotion. However, if any industrial product is deified and over-operated, it will definitely harm the interests of users.
Rose sex toy may not as good as you expect
Not all reviews are positive, and some users complain that buying them is a waste of money. Although the rose sexual toy originated from Amazon, many versions have been born after a lot of hype. To the best of my knowledge, as many as five sex toy factories have also developed and produced the same products. Because of the different abrasive tools, the color and appearance are slightly different, but the functions are almost the same. There are too many merchants selling rose toys online and you can search for rose sex toys on practically all e-commerce platforms. Some of them are traders and some are dropshippers.
Truth is, no sex toy can get consistent praise. It is because sex is caused by perceptual experience, and everyone's physical sensitivity and sexual needs are different. Rose vibrant sex toys are indeed overhyped. If you are a novice user of sex toys, then without a doubt, it may satisfy you. If you are a professional player, you may be disappointed. Before buying this product, you must know that it does not have a so-called sucking function but high-frequency flapping. The real sucking vibrator is a built-in air pump combined with a vibration motor to simulate oral sucking.
In addition, because the rose sex toy is an external stimulus toy, the body cannot shield part of its noise. The noise of the product itself and the structure of the flapping product makes it much louder than ordinary vibrators. If you cannot tolerate its noise, then it may not suit you.
Product safety is one of the critical factors you need to consider
When dopamine begins to secrete, you may be excited about getting an orgasm in your mind, but the critical issue that cannot be forgotten is product safety. Due to excessive hype, producing rose sex toys are flocking and there are inevitably cutting corners behind the vast competition. When you search for rose sex toys on Amazon, thousands of results are presented to you, making your choice become somewhat tricky.
If you're sure you can't judge everything, kindly visit xinghaoya's official store. We provide a one-year quality guarantee. During any non-artificial quality problems, we will replace your product with a new one or other products at the same price for free. Our price is 40% cheaper than what is obtainable on Amazon for the same rose sex toy. We have not only more than 20 years of adult toy production experience but also first-class service. All our products are subject to safety testing by any organization, and safety is only our fundamental promise. We also hope to do more for our users.
How to use the rose toy
Unlike other insertion sex toys, the rose toy mainly serves clitoral sex activities, and it belongs to the category of clitoral vibrators. It works by stimulating the clitoris through high-frequency slapping (most businesses describe this stimulation as "sucking", it doesn't matter but inaccurate!). When the clitoris is stimulated and erected, the user suffers from unbearable feelings, and at the critical point of stimulation reaches orgasm.
It is not difficult to use rose sex toys. The specific use summary is as follows:
Familiarize yourself with its essential functions according to the instructions, and you should fully charge it before each use;
Apply an appropriate amount of lubricant on and around the clitoris to adjust the stimulation mode that suits you;
Spinning around the pussy with a rose toy stimulation side and brewing into a sexual state;
Slide slowly to the edge of the labia and swirl around it;
When the excitement reaches a certain level, you can move to the clitoris and adjust the frequency of the rose toy to the highest level to further stimulate the clitoris. I believe that you or your partner will or has "taken off" at this time.
PS: There is no standard tutorial for using rose sex toys, and it should not be rigid. The one that suits you is the correct one. The above steps are for reference only!
In addition to rose sex toys, you have many choices.
When it comes to sex toys, we are experts. With 26 years of industry experience, we have already withstood the test of the market. Today, many of the well-known brands that you see on the market come from our factories. Due to confidentiality agreements and business guidelines, we will not disclose too many details. The goal of xinghaoya is to become one of the most popular sex toy brands.
If you have difficulties choosing a sex toy, you can contact us at any time and we will recommend a sex toy that suits your actual needs. The sex toys listed in our shop already meet the needs of most users. Based on our years of persistent pursuit to the cause of sexual health, we are your favorite vendor.
Recommending product one: xinghaoya second generation rose toy with thrusting g-spot vibrator. After the upgrade, the rose sex toy experience has been unleashed as never before, it will give you dual stimulation - one for the clitoris and the other for the G-spot. Meanwhile, the upgraded rose toy is quieter.
Recommending product two: xinghaoya rose sex toy variant. We replaced the sucking function with tongue licking and added a thrusting egg vibrator. The tongue swaying stimulates the clitoris, simulating the rapid slap of the tongue on the clitoris to bring endless pleasure, while the other end of the telescopic vibration stimulates the G-spot. Facts have proved that such combination stimulation is favored by many female users.
Recommending product three:  xinghaoya sucking + slapping clitoral stimulator (although I mentioned sucking, it is flapping). It is very suitable for users who are highly dependent on clitoral stimulation. It has a compact appearance and eight different stimulation modes to switch according to your needs. It has high-grade waterproof, so you can thoroughly enjoy the private fun in the bathtub. Currently, we have them available in pink and rose red.
Recommending product four: xinghaoya sucking G-spot vibrator. Yes, it is a rare real sucking vibrator. It has ten suckings + vibration modes, which has brought joy to many users.
Recommended product five: xinghaoya wireless remote control wearable underwear. The sales volume of the product has exceeded 200,000, and it is still selling at a high rate. Its charm is ultimately better than the men in many pornographic videos. It has super vibration, intelligent heating, double stimulation of the clitoris, and G-spot. The most important part is that it can listen to your call at any time and never complain.
Recommending product six: There's no need to say too much about this magnificent product. Here, you can enjoy God-like service treatment and safe products, money protection, and most importantly, you will get it with reasonable price from us.
Yes, welcome to the world of rose toy, which is popular all over the world. Here is the factory direct channel, you will get the best rose sex toy at the lowest price in the whole network. click here to buy your rose toy.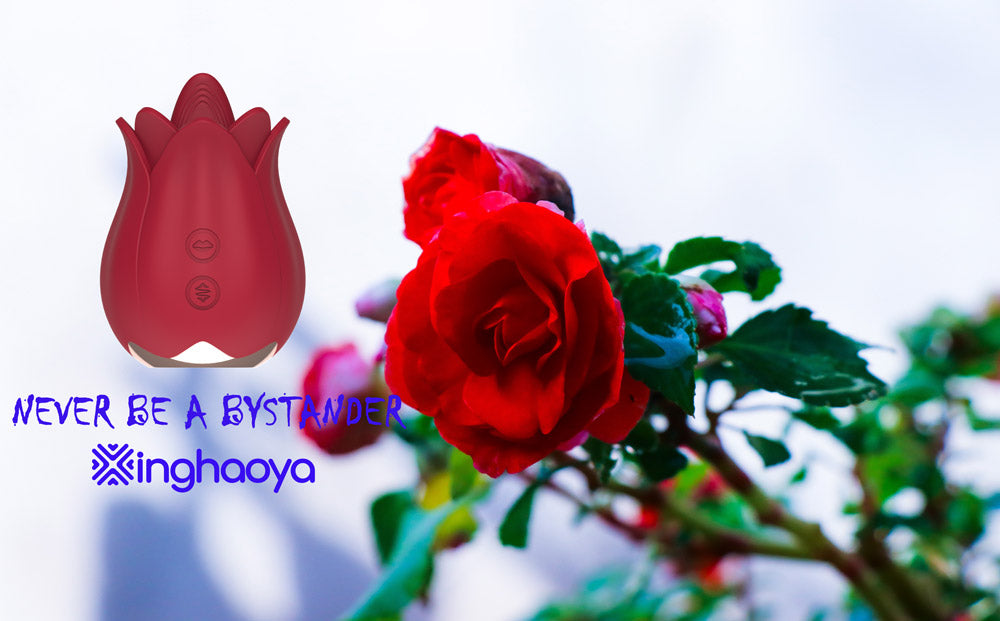 Ending: The rose may makes you look forward to loving, but rose toy may not surprise you
Whether it is TikTok's excessive hype or the exciting trend of many affiliate websites, they should not control your power of choice. If it's because someone or the website's tone hits your heart, I urge you to wait. All of this may not be the reason for your worthy choice, because they may not be responsible for your hard-earned money and good private sex experience.
We are delighted that you can read our sexual guide, and you can also search for other articles that interest you in the search bar.
We've embedded some of our sex toy products in the article, we're sorry if they get in the way of your reading experience, as we rely mainly on the sex toy business;And if you happen to need one of them, that's a great job.
Please take the courage to forward articles you are interested in to social media or other online spaces so that we can help more people learn about sex and enrich themselves. Thanks again!